April 30, 2016
Archive of the Saturday Gardening Thread: Updated April 30, 2016 [Y-not]
— Open Blogger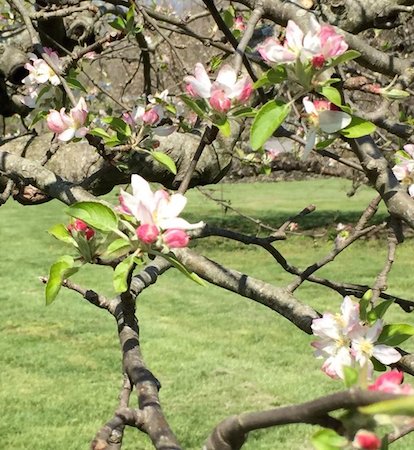 It's been a while since I updated the Saturday Gardening Thread archives, so here you go.
Remember: Don't comment on old threads lest your soul be eaten by pixy's voracious were-hamsters!
2014
January 25, 2014 The very first gardening thread (plant hardiness zones, Dave's garden and irrigation system, garden planning tools)
February 1, 2014 Yard and Garden Thread (fun facts about plants, ideas for creating outdoor "rooms")
February 8, 2014 Hot Tomatoes and Red Roses (tomatoes, roses)
February 15, 2014 Don't Be a Tool Edition (essential gardening tools, tool maintenance)
February 22, 2014 Let's Get Dirty (composting)
March 1, 2014 Make Your Bed (Raised bed, planting calendars)
March 8, 2014 Q Branch Edition (home and garden shows, keyhole planter, bee keeping, high tech gardening gadgets)
March 15, 2014 Zombie Edition (Square foot gardening, vertical gardening, sack gardening)
March 22, 2014 Weird Edition (world's strangest gardens, weird plant stories, honey bees)
March 29, 2014 Stop Bugging Me Edition (cherry trees, pests)
April 5, 2014 Solo Edition (solo cup "greenhouses", silly links)
April 12, 2014 Mystery Edition (the plantings of Augusta National, gardens of the First Families)
April 19, 2014 Easter Weekend (dogwoods, pussy willows, primer on phylogenetic analysis)
April 26, 2014 ToMAYto, ToMAHto (history of the tomato, evolutionary tree of food plants, heirloom tomatoes)
May 3, 2014 You're Canned! (storing your harvest, refrigerator pickles)
May 10, 2014 Bipolar Edition (companion plants, plant rotation)
May 17, 2014 Pests Large and Small (low-maintenance perennials, small space gardening)
May 24, 2014 Despicable Me Edition (silly stuff)
May 31, 2014 Mystery Edition (plants with interesting stories about them, mysterious garden pests, ground cover plants, padron peppers)
June 7, 2014 Show and Tell (garden pictures from morons and moronettes)
June 14, 2014 Polls and Potatoes (potato tower)
June 21, 2014 Thread for the Birds (canning tomato sauce, backyard birds, bird-friendly plantings)
June 28, 2014 Fantasy Edition (wildflower identification tools)
July 5, 2014 A Place for Your Stuff (tool storage, "smart" gardens)
July 12, 2014 Farm Report (technology and the politics of Big Ag, tomato staking using "the weave")
July 19, 2014 You Learn Something New Every Day (lessons from a novice gardener, average first frost date calculator)
July 26, 2014 Pioneer Day (morons/ettes show and tell)
August 2, 2014 Y-not's Mailbag and WeirdDave's Post of Horrors (show and tell pix, weed deterrence, power trimmer, mystery cypress disease, gazpacho)
August 9, 2014 Now With More Hate (fun links, Fall root crops)
August 16, 2014 Getting Pickled Edition: Dedicated to Travis County DA Rosemary Lehmberg (making traditional pickles, cautions about canning from KT, Call Greg!)
August 23, 2014 Big Bulbs and Hot Peppers (planting bulbs, pepper varieties, roasting peppers, preserving in olive oil)
August 30, 2014 Writer's Block Edition (assorted links, lawn mushrooms)
September 6, 2014 It's Minty Fresh! (all about mint, how to make potpourri, natural pesticides like mint oil, mint in the kitchen and bar)
September 13, 2014 Prune it and Beet It (beets and onions, jujubes aka "Japanese apples")
September 20, 2014 Untitled (heirloom tomatoes, fancy mums, tree borers attacking a red oak, out of control tomato plants)
September 27, 2014 Bugs (beneficial insects, videos of onion and carrot plantings)
October 4, 2014 Special Guest Appearance by KT (Fall foliage status map, good sources for bulbs, plant catalogs)
October 11, 2014 Duck and Cover (Fall gardening chores, cover crops)
October 18, 2014 Timber! (3D images of Utah, corn mazes, all about aspens, how to chop down a tree, how to build a fire pit)
October 25, 2014 Pantsless Edition (rutabagas and turnips, versatile power tool for gardening)
November 1, 2014 Demon Seed Edition (fun facts about seeds, seed catalogs)
November 8, 2014 Celebrate! (hard cider, apples, beer)
November 15, 2014 Eats, Shoots and Leaves (fun facts about frozen veggies, shoots & micro greens)
November 22, 2014 Seeing Red (Christmas and Thanksgiving cactii, cranberries, lingonberries, natal plum)
November 29, 2014 Gardening Has Been Berry Berry Good To Me (huckleberries, blueberries, foraging for berries, Saskatoon berries, jam making)
December 6, 2014 Granola Edition (fun facts about Christmas trees, Oregon hippy gardeners)
December 13, 2014 Winter Doldrums (amaryllis, winter sown seeds, books on gardening)

2015
January 3, 2015 Farm Report (World Ag Expo, seed sources for farmers, origins of the Christmas nativity)
January 10, 2015 Trees in Winter (trees with winter interest, bare root trees and fruit tree care, winter gardening links)
January 17, 2015 Capitalism Edition (economics of gardening, winter catalogs)
January 24, 2015 Winter Is Making Me Potty (interesting/unusual garden pots, portable tomato cage planter, Melissa Clouthier guest post describing the Garden Tower, winter interest gardening)
January 31, 2015 Minimalist Edition (plants with artistic branches and stems, garden planning tips)
February 7, 2015 Tomayto/Tomahto, Desert/Dessert (gooseberries, currants, fruit trees/cordons, desert wildflowers, tomatoes)
February 14, 2015 Beauty and the Beast (asparagus, plants for Valentine's Day, the science of asparagus "pee" smell, hot boxes)
February 21, 2015 Nothing "Beets" Planning (landscape planning, all about beets, vacu-sealing)
February 28, 2015 This Winter Is for the Birds (Cineraria, planting for songbirds, dangers of bird feeders, Nyger seed, bird baths)
March 7, 2015 Let's Eat! (mushroom growing, edible flowers)
March 14, 2015 Signs of Spring (color wheel/bloom time planning tool, other average bloom date tools, cherry blossoms, broccoli, kale)
March 21, 2015 Spring Cleaning (KT's list o' assorted seasonal links)
March 28, 2015 Bi-Polar Edition (almanacs, tomatoes)
April 4, 2015 Rockin' Robin Edition (birdhouses, mulberries, pollarding a tree)
April 11 2015 Tip Toe Through the Tulips... (tulips, spinach, chard, nasturtiums, sunflowers)
April 18, 2015 Persevere (bulbs, tomatoes)
April 25, 2015 Working Without a Net Edition (hydrangeas, Mount Vernon gardens)
May 2, 2015 April Showers Bring Mayflowers (Pilgrims' gardening habits, hot peppers guest post by The Dude, interesting facts about moths, desert willow trees)
May 9, 2015 Down on the Farm (Guest post by CaliGirl, how to make seed tape, chile pepper varieties)
May 16, 2015 NO THREAD
May 23, 2015 Butterflies Are Free (milkweed and other butterfly host plants, the science of butterfly wings)
May 30, 2015 Texas-sized Fun (tumbleweeds, roses)
June 6, 2015 Fiddling Around (ferns, warning about sago palm nuts, gourds)
June 13, 2015 Ahhhh... Magnolias! (Southern magnolias, maps of flora and drought distribution)
June 20, 2015 untitled (heat wave, cast iron plant)
June 27, 2015 Tropicana Edition (Florida gardening blog, Summer solstice, currants, Brandywine tomatoes, mystery plant in Mexico)
July 4, 2015 Hot as a Firecracker, Cool as a Cucumber (patriotic garden ideas, firecracker plant, cucumbers, hugelkultur planting technique, Herman Melville's estate and gardens)
July 11, 2015 Favorite Things (favorite plants from different parts of the country, watermelons)
July 18, 2015 Doctor! Doctor! (CharlieBrown's sick roses, American chestnut trees, history of Sunset Magazine, heat zone map, dahlias, show & tell pictures from the horde)
July 25, 2015 Practical Magic (self-watering planters, practical garden gadgets, super-sciency tomatoes and other non-GMOs, poplars and cottonwoods)
August 1, 2015 "Cold" August Ovens (herbal remedies, outdoor ovens, moth)
August 8, 2015 It's "Bean" a Long Week (how to choose a cucumber variety, runner beans and sweet snaps)
August 15, 2015 DO Tread On Me (steppables, pluots, succotash, beans)
August 22, 2015 Flamboyant Flowers (NTTAWWT) (drought-tolerant ornamentals, fall veggie gardening)
August 29, 2015 Robert Ryman Edition (crepe myrtle pictures and CBD's mystery tree)
**Saturday Gardening thread #twoweek hiatus.**
September 19, 2015 Phoenix Edition (Celosias, Paradise and crane flowers, choosing a small fruit tree for coastal California, irrigation trick for promoting the growth of young plants)
September 26, 2015 Blue Moons (and Hyacinths) (ecoregions, plants you love to hate, squashes, hyacinths)
October 3, 2015 Linky Dinky (beautifying chain link fences, fast-growing vines, Fall checklist)
October 10, 2015 Greens or Weeds? (pokeweed usage and control, water hyacinths, extra hardy greens)
October 17, 2015 Fall into Gardening (winter forecast, sorghum, Fall herbs)
October 25, 2015 Good to the Last Drop (Cheekwood gardens in Nashville, crepe myrtle, stinking cedar, perennial sunflowers, elfwort and mugwort)
October 31, 2015 Saturday Gardening Thread: Double, double toil and trouble (chia pets, sage, belladonna)
November 7, 2015 Saturday Gardening Thread: November Boogie (tree identification tools, Thanksgiving centerpieces, nannyberry tree, azure butterfly)
November 15, 2015 Sunday Edition (Celosia, Sootywing butterfly, )
November 21, 2015 Go Nuts! (Buckeyes; Pigweeds, Quinoa and Epazote)
November 28, 2015 What's Your Statice? (You guessed it... statice)
December 5, 2015 Musical Trees and Fighting Okras (Seed catalogs, Gardening gifts, Fruit tree report, Fall foliage)
December 12, 2015 Baby, It's Cold Outside! (Quirky Christmas trees, Bird-friendly plantings, Hollies)
UNABLE TO FIND THE DECEMBER 19, 2015 THREAD IN THE ARCHIVES AT THIS TIME
December 26, 2015 Stormy Weather (Ash trees, Cinnamon, Ginger, Sausage tree)
January 2, 2016 Hippo Gnu Bear (Flood maps, Cookie tree, Anise, Caraway)
January 9, 2016 A Maiden's Hair (Ornamental grasses; Corn salad (the greens); Rampion; Wild leeks)
January 16, 2016 Rockin' Robin (Wintering robins; Heart tomotoes)
January 23, 2016 State Department Edition (Snowmaggedon)
January 30, 2016 Not DRAFT Edition (Selecting evergreen trees; Butterflies, Caterpillars, Host plants; Fennel; Tribute to Joffen)
February 6, 2016 Gardening with a Side of Pasta(farian) (Pastafarian shares his experiences with the Aerogarden system; Wind chill; Chill requirements for fruit trees)
February 13, 2016 Thread for a Chile February (Chiles; Bocce courts)
February 20, 2016 Tribute to the 7th President of the United States of America (Whittling; Hickory)
February 27, 2016 Absinthe Makes the Heart Grow Fonder (Vines: Jessamine, Clematis, Grapes; Bird-friendly garden guide; Wormwood)
March 5, 2016 Twisty Turny (Signs of Spring; Garden furniture; Vines; Windy gardens)
March 12, 2016 Spring Ahead (of Cabbage) (Gardening trends; Gardening develops character; Plants in space; Cabbage; Green flowers)
March 19, 2016 Down and Dirty (Potting soil; Overcoming a soggy patch of garden; Kohlrabi; Azaleas)
March 26, 2016 Bookworm Edition (Geraniums and geranium pests; Gardening books)
April 2, 2016 April Fools (Quirky plant links; Dandelions)
April 9, 2016 Appalachian Spring (Cheekwood; Mistletoe; Backyard pond advice; Chervil)
April 16, 2016 DO Look Down! (Mammoth Cave National Park flora; Lawn mower advice; Redbuds; Dead-Nettle; Bridal Wreath Spirea; Climate Zones)
April 22, 2016 California Here We Come! (Garden Art; Forestiere Underground Gardens; Sequoia and Kings Canyon National Parks; Millipedes and Centipedes)
Posted by: Open Blogger at 07:25 AM | Add Comment
Post contains 1690 words, total size 18 kb.
Comments are disabled.
86kb generated in CPU 0.22, elapsed 1.8155 seconds.
42 queries taking 1.7713 seconds, 233 records returned.
Powered by Minx 1.1.6c-pink.